Joel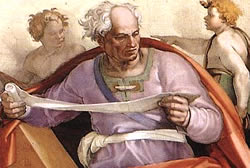 The Book of Joel is part of the Hebrew Bible and Christian Old Testament, one of twelve prophetic books known as the Twelve Minor Prophets. (The term indicates the short length of the text in relation to longer prophetic texts known as the Major Prophets.)
After a superscription ascribing the prophecy to Joel (son of Pethuel), the book may be broken down into the following sections:
Lament over a great locust plague and a severe drought (1:1-2:17).

The effects of these events on agriculture, farmers, and on the supply of agricultural offerings for the Temple in Jerusalem, interspersed with a call to national lament (1:1-20).
A more apocalyptic passage comparing the locusts to an army, and revealing that they are God's army (2:1-11).
A call to national repentance in the face of God's judgment (2:12-17).

Promise of future blessings (2:18-32 or 2:18-3:5).

Banishment of the locusts and restoration of agricultural productivity as a divine response to national penitence (2:18-27).
Future prophetic gifts to all God's people, and the safety of God's people in the face of cosmic cataclysm (2:28-32 or 3:1-5).

Coming judgment on the Kingdom of Judah's enemies: the Philistines, the Kingdom of Edom, and the Kingdom of Egypt (3:1-21 or 4:1-21).
View the Chapters of Joel:
1 2 3