Job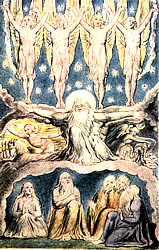 The Book of Job is a book of the Hebrew Bible. It addresses the problem of theodicy, meaning why God permits evil in the world, through the experiences of the eponymous protagonist, who suffers many tragedies from Satan. The book is found in the Ketuvim ("Writings") section of the Hebrew Bible (Tanakh), and is the first poetic book in the Old Testament of the Christian Bible. Scholars are generally agreed that it was written between the 7th and 4th centuries BCE.
The Book of Job consists of a prose prologue and epilogue narrative framing poetic dialogues and monologues. It is common to view the narrative frame as the original core of the book, enlarged later by the poetic dialogues and discourses, and sections of the book such as the Elihu speeches and the wisdom poem of chapter 28 as late insertions, but recent trends have tended to concentrate on the book's underlying editorial unity.
Prologue in two scenes, the first on Earth, the second in Heaven (Job 1-2)


Job's opening monologue (Job 3 - seen by some scholars as a bridge between the prologue and the dialogues and by others as the beginning of the dialogues), and three cycles of dialogues between Job and his three friends (Job chapters - the third cycle is not complete, the expected speech of Zophar being replaced by the wisdom poem of chapter 28)



First cycle

 Eliphaz (Job 4-5) and Job's response (Job 6-7)
 Bildad (8) and Job (Job 9-10)
 Zophar (11) and Job (Job 12-14)

Second cycle

 Eliphaz (15) and Job (Job 16-17)
 Bildad (18) and Job (Job 19)
 Zophar (20) and Job (Job 21)

Third cycle

 Eliphaz (22) and Job (Job 23-24)
 Bildad (25) and Job (Job 26-27)

Three monologues:



A Poem to Wisdom (chapter 28, previously read as part of the speech of Job, now regarded by most scholars as a separate interlude in the narrator's voice)


Job's closing monologue (chapters 29-31)


and Elihu's speeches (chapters 32-37)



Two speeches by God (chapters 38:1-40:2 and 40:6-41:34, 42:7-8), with Job's responses


Epilogue - Job's restoration (chapters 42:9-17).
View the Chapters of Job:
1 2 3 4 5 6 7 8 9 10 11 12 13 14 15 16 17 18 19 20 21 22 23 24 25 26 27 28 29 30 31 32 33 34 35 36 37 38 39 40 41 42