Hosea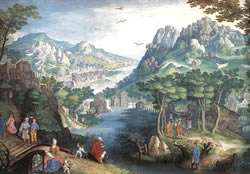 The Book of Hosea is one of the books of the Hebrew Bible. According to the traditional order of most Hebrew Bibles, it is the first of the twelve Minor Prophets.
Set around the fall of the Northern Kingdom of Israel, the Book of Hosea denounces the worship of gods other than Yahweh (the God of Israel), metaphorically comparing Israel's abandonment of Yahweh to a woman being unfaithful to her husband. According to the book's narrative, the relationship between Hosea and his unfaithful wife Gomer is comparable to the relationship between Yahweh and his unfaithful people Israel. The eventual reconciliation of Hosea and Gomer is treated as a hopeful metaphor for the eventual reconciliation between Yahweh and Israel.
Dated to c. 760-720 BC, it is one of the oldest books of the Hebrew Bible, predating final recensions of the full Torah (Pentateuch). Hosea is the source of the phrase "sow the wind", which has passed into common usage in English and other languages.
Hosea prophesied during a dark and melancholic era of Israel's history, the period of the Northern Kingdom's decline and fall in the 8th century BC. According to the book, the apostasy of the people was rampant, having turned away from God in order to serve both the calves of Jeroboam and Baal, a Canaanite god.
The Book of Hosea says that, during Hosea's lifetime, the kings of the Northern Kingdom, their aristocratic supporters, and the priests had led the people away from the Law of God, as given in the Pentateuch. It says that they forsook the worship of God; they worshiped other gods, especially Baal, the Canaanite storm god, and Asherah, a Canaanite fertility goddess. Other sins followed, says the Book, including homicide, perjury, theft, and sexual sin. Hosea declares that unless they repent of these sins, God will allow their nation to be destroyed, and the people will be taken into captivity by Assyria, the greatest nation of the time.
The prophecy of Hosea centers around God's unending love towards a sinful Israel. In this text, God's agony is expressed over His betrayal by Israel. Stephen Cook asserts that the prophetic efforts of this book can be summed up in this passage "I have been the Lord your God ever since the land of Egypt; you know no God but me, and besides me there is no savior" (Hosea 13:4). Hosea's job was to speak these words during a time when they had been essentially forgotten.
View the Chapters of Hosea:
1 2 3 4 5 6 7 8 9 10 11 12 13 14