2 Chronicles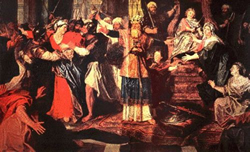 The Book of Chronicles is a Hebrew prose work constituting part of Jewish and Christian scripture. It contains a genealogy starting from Adam, and a narrative of the history of ancient Judah and Israel until the proclamation of King Cyrus the Great (c. 540 BC).
Chronicles is the final book of the Hebrew Bible, concluding the third section of Ketuvim, the last section of the Jewish Tanakh. It was divided into two books in the Septuagint, the Paralipomenon ("things left on one side"). In Christian contexts it is therefore known as the Books of Chronicles, after the Latin name chronikon given to the text by the scholar Jerome. In the Christian Bible, the books (commonly referred to as 1 Chronicles and 2 Chronicles, or First Chronicles and Second Chronicles) generally follow the two Books of Kings, and precede Ezra-Nehemiah; thus they conclude the history-oriented books of the Old Testament.
The Chronicles narrative begins with Adam, Seth and Enosh, and the story is then carried forward, almost entirely through genealogical lists, down to the founding of the first Kingdom of Israel (in the "introductory chapters", 1 Chronicles 1-9). The bulk of the remainder of 1 Chronicles, after a brief account of Saul in chapter 10, is concerned with the reign of David (1 Chronicles 11-29). The next long section concerns David's son Solomon (2 Chronicles 1-9), and the final part is concerned with the Kingdom of Judah, with occasional references to the second kingdom of Israel (2 Chronicles 10-36). The final chapter covers briefly the reigns of the last four kings, until Judah is destroyed and the people taken into exile in Babylon. In the two final verses, identical to the opening verses of the Book of Ezra, the Persian king Cyrus the Great conquers the Neo-Babylonian Empire, and authorises the restoration of the Temple in Jerusalem and the return of the exiles.
View the Chapters of 2 Chronicles:
1 2 3 4 5 6 7 8 9 10 11 12 13 14 15 16 17 18 19 20 21 22 23 24 25 26 27 28 29 30 31 32 33 34 35 36