1 Peter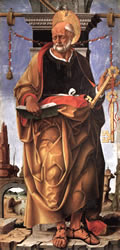 The First Epistle of Peter, usually referred to simply as First Peter and often written 1 Peter, is a book of the New Testament. The author presents himself as Peter the Apostle. The text of the letter includes a statement that implies that it was written from "Babylon", which is possibly a reference to Rome. The letter is addressed to various churches in Asia Minor suffering religious persecution.
The authorship of 1 Peter has traditionally been attributed to the Apostle Peter because it bears his name and identifies him as its author (1:1). Although the text identifies Peter as its author, the language, dating, style, and structure of this letter have led many scholars to conclude that it is pseudonymous. Many scholars argue that Peter was not the author of the letter because its writer appears to have had a formal education in rhetoric and philosophy, and an advanced knowledge of the Greek language, none of which would be usual for a Galilean fisherman.
1 Peter is addressed to the "elect resident aliens" scattered throughout Pontus, Galatia, Cappadocia, Asia, and Bithynia. The five areas listed in 1:1 as the geographical location of the first readers were Roman provinces in Asia Minor. The order in which the provinces are listed may reflect the route to be taken by the messenger who delivered the circular letter. The recipients of this letter are referred to in 1:1 as "exiles of the Dispersion". In 1:17, they are urged to "live in reverent fear during the time of your exile". The social makeup of the addressees of 1 Peter is debatable because some scholars interpret "strangers" (1:1) as Christians longing for their home in heaven, some interpret it as literal "strangers", or as an Old Testament adaptation applied to Christian believers.
While the new Christians have encountered oppression and hostility from locals, Peter advises them to maintain loyalty to both their religion and the Roman Empire (1 Peter 2:17).
The author counsels (1) to steadfastness and perseverance under persecution (1-2:10); (2) to the practical duties of a holy life (2:11-3:13); (3) he adduces the example of Christ and other motives to patience and holiness (3:14-4:19); and (4) concludes with counsels to pastors and people (chap. 5).
View the Chapters of 1 Peter:
1 2 3 4 5