Wisdom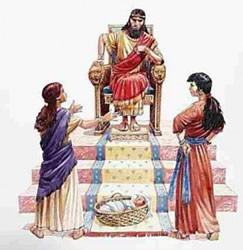 The Book of Wisdom, or the Wisdom of Solomon, is a Jewish work written in Greek and most likely composed in Alexandria, Egypt. Generally dated to the mid first century BC, the central theme of the work is "Wisdom" itself, appearing under two principal aspects. In its relation to man, Wisdom is the perfection of knowledge of the righteous as a gift from God showing itself in action. In direct relation to God, Wisdom is with God from all eternity. It is one of the seven Sapiential or wisdom books comprising the Septuagint, the others being Psalms, Proverbs, Ecclesiastes, Song of Songs (Song of Solomon), Job, and Sirach. It is included in the canon of Deuterocanonical books by the Roman Catholic Church and the anagignoskomena (meaning "those which are to be read") of the Eastern Orthodox Church. Most Protestants consider it part of the Apocrypha.
The structure can be divided into three sections:
Book of Eschatology

exhortation to justice
speech of the impious, contrasts of the wicked and the just
exhortation to wisdom

Book of Wisdom<

Solomon's speech concerning wisdom, wealth, power and prayer

Book of History

introduction, followed by diptychs of plagues
digression on God's power and mercy
digression on false worship and further plagues
recapitulation and concluding doxology.
The book is addressed to the rulers of the earth, urging them to love righteousness and seek wisdom; the wicked think that all is chance and that they should enjoy each day, but they are deluded. In the second section Solomon (not explicitly named, but strongly implied) tells of his search for wisdom.
The Wisdom of Solomon can be linked to several forms of ancient literature, both Jewish and non-Jewish, but it clearly belongs with biblical Wisdom books such as the Book of Job, one of only five such books among ancient Jewish literature. In terms of classical genre it has been identified as an encomium and with the Greek genre of the "exhortatory discourse", by which a teacher attempts to persuade others to a certain course of action.
View the Chapters of Wisdom:
1 2 3 4 5 6 7 8 9 10 11 12 13 14 15 16 17 18 19