Judith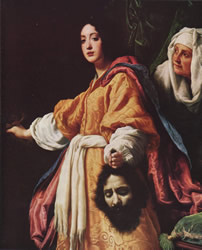 The Book of Judith is a deuterocanonical book, included in the Septuagint and the Catholic and Eastern Orthodox Christian Old Testament of the Bible, but excluded from the Hebrew canon and assigned by Protestants to their apocrypha. It tells of a Jewish widow, Judith, who uses her beauty and charm to destroy an Assyrian general and save Israel from oppression. The surviving Greek manuscripts contain several historical anachronisms, which is why some scholars now consider the book non-historical: a parable, a theological novel, or perhaps the first historical novel.
The name Judith is the feminine form of Judah.
It is not clear whether the Book of Judith was originally written in Hebrew or in Greek. The oldest existing version is the Septuagint and might either be a translation from Hebrew or composed in Greek. Details of vocabulary and phrasing point to a Greek text written in a language modeled on the Greek developed through translating the other books in the Septuagint.
The extant Hebrew language versions, whether identical to the Greek, or in the shorter Hebrew version, date to the Middle Ages. The Hebrew versions name important figures directly such as the Seleucid king Antiochus IV Epiphanes, thus placing the events in the Hellenistic period when the Maccabees battled the Seleucid monarchs. The Greek version uses deliberately cryptic and anachronistic references such as "Nebuchadnezzar", a "King of Assyria", who "reigns in Nineveh", for the same king. The adoption of that name, though unhistorical, has been sometimes explained either as a copyist's addition, or an arbitrary name assigned to the ruler of Babylon.
The story revolves around Judith, a daring and beautiful widow, who is upset with her Jewish countrymen for not trusting God to deliver them from their foreign conquerors. She goes with her loyal maid to the camp of the enemy general, Holofernes, with whom she slowly ingratiates herself, promising him information on the Israelites. Gaining his trust, she is allowed access to his tent one night as he lies in a drunken stupor. She decapitates him, then takes his head back to her fearful countrymen. The Assyrians, having lost their leader, disperse, and Israel is saved. Though she is courted by many, Judith remains unmarried for the rest of her life.
The Book of Judith can be split into two parts or "acts" of approximately equal length. Chapters 1-7 describe the rise of the threat to Israel, led by the evil king Nebuchadnezzar and his sycophantic general Holofernes, and is concluded as Holofernes' worldwide campaign has converged at the mountain pass where Judith's village, Bethulia, is located. Chapters 8-16 then introduce Judith and depict her heroic actions to save her people. Part I, although at times tedious in its description of the military developments, develops important themes by alternating battles with reflections and rousing action with rest. In contrast, the second half is devoted mainly to Judith's strength of character and the beheading scene.
View the Chapters of Judith:
1 2 3 4 5 6 7 8 9 10 11 12 13 14 15 16